Welcome to December and take it away Ryan.....



Au revoir Novembre... Bonjour Decembre!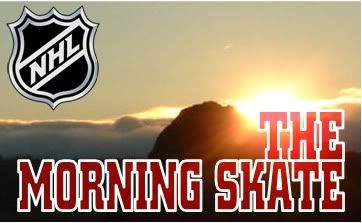 The Morning After:
Last night's scores:
Penguins 5, Rangers 2
Sabres 3, Maple Leafs 0
Thrashers 4, Panthers 3
Capitals 3, Hurricanes2
Blue Jackets 5, Blues 2
Avalanche 3, Lightning 0
Red Wings 4, Stars 1
Flames 5, Predators 0
Predictions record: 7-1

My 3 stars from last night:
1. Ryan Miller, BUF (38 Saves, Shutout)
It was 'Miller Time' in Toronto as the Sabres' backstop shutout the Leafs in dominant fashion.
2. R.J. Umberger, CBJ (3 Goals, 1 Assist)
No team needed a win more than the Jackets last night, and Umberger stepped up with a hat trick.
3. Nicklas Backstrom, WSH (2 Goals, 1 Assist)
With his P.I.C. (partner in crime) gone for most of the game, Backstrom delivered for the Caps with 3 crucial points.
Honorable Mention: M. Rupp, C. Anderson, M. Kiprusoff, S. Crosby
Dud of the Night:
Keith Ballard… The Panthers defenseman took out his own goalie after Atlanta's second goal. He swung his stick in frustration, and struck Vokoun accidentally, giving him a lacerated ear and a trip to the hospital. I understand it wasn't purpose, but good golly miss molly! I'm pretty sure he'll never let his frustrations show after a goal again…
---

Tonight's Slate:
Maple Leafs @ Canadiens, 7:00 ET
Blue Jackets @ Blackhawks, 8:00
Senators @ Sharks, 10:30
Kings @ Ducks, 10:30

Games of the Night:
Columbus Blue Jackets @ Chicago Blackhawks
8:00 ET… TV: VERSUS, TSN2

Records:
Overall: Blue Jackets (13-9-4) … Blackhawks (16-6-3)
Last Ten: Blue Jackets (4-4-2) … Blackhawks (8-1-1)
Away/Home: Blue Jackets (6-7-1) … Blackhawks (10-2-1)
Season Series: First meeting

Players to watch:
CBJ- Rick Nash
Captain Nash failed to tally a point last night… does that mean he's due?
CHI- Marian Hossa
He will make his home debut tonight, and has owned Columbus in his career.

Projected Goaltenders:
CBJ- Matheiu Garon (09/10 stats: 15-7-0, 2.54 GAA)
CHI- Cristobal Huet (09/10 stats: 12-5-2, 2.12 GAA)

Injury Report:
CBJ- Rostislav Klesla (leg, out), Derek Dorsett (head, out), Fredrik Modin (knee, out), Andrew Murray (shoulder, out)
CHI- Dave Bolland (back, out), Adam Burish (knee, out)

Game Thoughts:
The United Center should be buzzing tonight with Hossa making his first appearance at home this season. They'll be facing a Jackets team coming off an important 5-2 win last night. Most of Columbus' recent struggles have come on the road, while Chicago is dynamite on home-ice. Take the 'Hawks…
Prediction: Blackhawks 4, Blue Jackets 2
---
Ottawa Senators @ San Jose Sharks
10:30 ET… TV: Local Networks

Records:
Overall: Senators (13-7-4) … Sharks (18-6-4)
Last Ten: Senators (6-2-2) … Sharks (6-2-2)
Away/Home: Senators (3-4-1) … Sharks (7-1-2)
Season Series: First meeting

Players to watch:
OTT- Milan Michalek
He returns to San Jose, and has been on a goal-scoring tear lately.
SJ- Dany Heatley
'Heater' gets to face his former team for the first time since he turned his back on 'em.

Projected Goaltenders:
OTT- Brian Elliott (09/10 stats: 5-2-3, 2.59 GAA)
SJ- Evgeni Nabokov (09/10 stats: 16-4-4, 2.35 GAA)

Injury Report:
OTT- Pascal Leclaire (jaw, out), Chris Neil (knee, out), Anton Volchenkov (elbow, may play), Shean Donovan (knee, out)
SJ- Brad Staubitz (face, out), Jody Shelley (soreness, out)

Game Thoughts:
These two face off for the first time since their blockbuster trade in September. I wish this game was in Ottawa so Heatley could feel the heat (pun intended). Instead Sharks fans will probably be treated to nice 'welcome home' videos for Michalek and Cheechoo. San Jose finally gets to settle at home after playing 2/3 of their schedule on the road. Cory Clouston's club has a tough task tonight, and I like the Sharks to win – big.
Prediction: Sharks 5, Senators 2

The rest of tonight's predictions:
Canadiens over Maple Leafs
Ducks over Kings

You can follow the Red Light District on Twitter @RLDhockey!