A Tale Of Two Stanley Cup Final PREviews...
First up Ryan's preview.......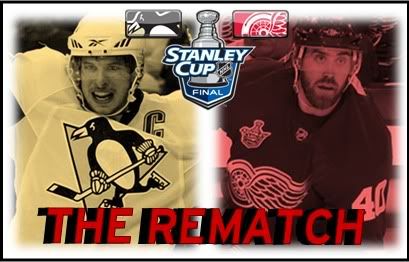 How they got here…


Red Wings-
1. 4-0 series win over CBJ
2. 4-3 series win over ANA
3. 4-1 series win over CHI
Penguins-
1. 4-2 series win over PHI
2. 4-3 series win over WSH
3. 4-0 series win over CAR
Season Series…
Tied 1-1


Previous Playoff Meeting…


2008 Stanley Cup Finals (4-2 Red Wings)
Tale of the Tape…
Forwards-
Edge: Penguins… Detroit has good depth, but the Pens have the firepower, are clicking on all cylinders, and are fully healthy.
Defensemen-
Edge: Red Wings… A slight advantage goes to the Wings if Lidstrom can play in this series.
Goaltending-
Edge: Even… Both 'Ozzie' and Fleury have played well in the playoffs.
Special Teams-
Edge: Penguins… A slight advantage goes to Pittsburgh because of their PK.
Coaching-
Edge: Red Wings… Big edge for the Wings as Babcock has much more experience here than Dan Bylsma.
Experience-
Edge: Red Wings… The Pens have their fair share of experience, but the Wings have a bevy of it at this time of year.


Team X-Factors…


Red Wings-
Marian Hossa… There's a reason why Hossa left Pittsburgh to sign with the Wings last July… and that was to win the Cup. Now is the time for him to kick it up a notch against his former 'mates. While showing flashes of brilliance this postseason, he's been inconsistent and hasn't been able to put together a great series. That must change here against the Pens. With the statuses of Lidstrom and Datsyuk unclear for at least the start of this series, look for Hossa to up his game to try to win his first Cup.
Penguins-
Chris Kunitz… I really think Kunitz has to have a good series against Detroit for the Pens to win the Cup. He had his best 3-game stretch in these playoffs in Games 2-4 against Carolina. Kunitz collected 5 points, 14 shots, and was a +5 in those games; his game is starting to go on an upward curve. If he can be effective down low and chip-in on the power play, it will definitely increase the Pens' chances in this series.


Match-up to Watch…


Chris Osgood vs. Marc-Andre Fleury
In the tale of the tape above, the goaltending match-up is the only one I considered as 'even'. This series could ultimately come down to which goalie plays better in the key moments of each game. Which goalie will give up the bad rebound that results in a goal?? Which goalie will be out of position at a key time?? Which goalie will give up a bad momentum-changing goal?? Fleury has been really good, but not great… 'Ozzie' has been more consistent in the playoffs in my opinion. Side note: If Fleury face-plants coming onto the ice again, the Pens are doomed!


Unsung Hero Watch…


Red Wings-
Mikael Samuelsson & Brad Stuart
Penguins-
Ruslan Fedotenko & Jordan Staal


Key Injuries…


Red Wings-
D Nicklas Lidstrom (lower body, questionable for start of series)
C Pavel Datsyuk (foot, questionable for start of series)
D Jonathan Ericsson (appendectomy, questionable for start of series)
C Kris Draper (groin, questionable for start of series)
D Andreas Lilja (head, doubtful for series)
Penguins-
None
Keys to the Series…
Red Wings-
1. Stop the Pens' PP… The Pens can create momentum on the power play even if they don't score. Detroit must limit their chances and constantly dump the puck and wreak havoc on Crosby & Malkin on the man advantage.
2. Take care of the puck… Against Carolina, the Pens jumped on and forced turnovers like crazy. The Wings have to avoid turnovers and give them any free odd-man rushes.
Penguins-
1. Secondary scoring… Round 1 it was Kennedy; Round 2 it was Fedotenko; Round 3 it was Talbot and Fedotenko. Pittsburgh has received good contributions from guys not named Sidney & Evgeni. Look for Jordan Staal and/or Miroslav Satan to fit this role in this series.
2. Learn from last year… Losing in 6 games to the Wings was certainly tough on the young Pens last spring. But it may help them in this year's rematch. I think Crosby & company knows what it takes to win it all by being defeated by Detroit last year.


Why the Red Wings will win…


Because they're Detroit. Once they get this deep in the playoffs, they usually don't lose. The Wings have won in each of the last 4 times they've reached the finals. They've gotten clutch scoring from unusual suspects such as Dan Cleary and Samuelsson. I think Franzen and Holmstrom have to be effective down low in front of Fleury. And of course, Lidstrom and Datsyuk have to get back in the lineup sooner rather than later.
Why the Penguins will win…
History is on Pittsburgh's side. The last time there was a rematch in the finals was in 1984 when the Oilers & Islanders faced off. In '83, the Billy Smith-led Islanders beat Edmonton. But in '84, young guns Gretzky & Messier finally captured their 1st Cup in a sweep of the Isles. The Pens are hot, sweeping Carolina quite convincingly. They also had to win 4 of the last 5 against Washington… some adversity that this team did not face last spring. Last year they may have been 'just happy' to make it to the finals. That's not the case this time around as Pittsburgh is on a mission.


Final Thoughts…


It is so hard to pick against the Red Wings. They don't feel the pressure of being the favorites to go back-to-back. This team has continued to be a machine without the services of Lidstrom & Datsyuk. Another thing going in Detroit's favor could be Bylsma's inexperience. This series will be very exciting and much more competitive than last year. But I'm afraid we're going to see the same result even though Pittsburgh is ready for the challenge.


PREDICTION… RED WINGS IN 7
---
And now my preview.....



[youtube=http://www.youtube.com/watch?v=RWbQpap7XF4&hl=en&fs=1]

Old time fighting hockey!!!!!




Yes this is not quite the 2009 Wings and Penguins I know but sometimes you have to do something completely different in your previews.



Postseason Records:



Wings: 12-4 Penguins: 12-5



Season series was split at 1.



Last year though the Wings defeated the Penguins in six games in the Stanley Cup Finals. The Wings used their depth and experience with timely scoring and goaltending. The Penguins were pretty much in awe of the Red Wings in the first two games of last year's final. Have they learned their lesson? Let's preview.



Razor Thin Edges:



Forwards -
(EVEN)

Tough to decide but we went even here only because the Wings are not quite healthy. Funny thing is Wings may have better offense now than they did last year because of that Hossa guy. The depth is solid. Pittsburgh has Crosby, Malkin, and company a year removed...that is what makes this even.


Defense -

(WINGS)
Lidstrom will play in this series from several sources I have heard from. I still think the Pens defense is vulnerable especially with Eaton and Gill on the ice. With home ice advantage going to Detroit...that last change will be big for the Wings D...and that is just enough to give them the slight edge.


Goaltending - (EVEN)
Both Osgood and Fleury have been great and inconsistent in the playoffs. Hard to tell who has the advantage since Fleury came off his best game of the playoffs and so did Osgood.


Special Teams -

(PENS)
Tough to call but that Wings PK which has gotten a hair better still is not as good as the Penguins PK. Also at some point, the Pens PP has to get clicking. It has not been bad but it should be better.


Coaching -

(WINGS)
I think Babcock has been around this block a few more times than Dan Bylsma.


Experience -

(WINGS)
This whole team has been in many wars and the old vets have been there in the late 90's and early 2000's as well. Advantage Detroit even though Pittsburgh has the pain from last year's Finals etched into their skulls.




Who Needs To Dip Their Balls In It?





DET

- Marian Hossa.
This is obvious. He signed with Detroit to have a better chance at winning the Stanley Cup. Now it is put up or shut up time. He got hot when it mattered most against Anaheim and Chicago. Now he has to face his former team who admittedly have some considerable bad blood (especially the Penguin fans). If he can put up the numbers in this series and the Wings win...that will erase the "playoff bust" label that has been tagged on him since his days in Ottawa.




PIT

- Chris Kunitz.
Ryan and I agree here. When Kunitz is playing Anaheim Ducks style hockey...he is the most effective. He has to play feisty and has to play with an edge. If he can score like he did in the last 3 games against Carolina where he was a force offensively and defensively. He will give guys like Zetterberg and Datsyuk fits. He is probably the one player Detroit did not want to see in a Pittsburgh uniform. Great on the PK and particularly the PP....he could be a major pest in front of Osgood. If effective enough...it could change the outcome of the series.
Unsung Guy??
DET - Val Filppula
PIT - Kris Letang
Key Injuries…


Red Wings-
D Nicklas Lidstrom (lower body, probable for start of series)
C Pavel Datsyuk (foot, probable for start of series)
D Jonathan Ericsson (appendectomy, doubtful for start of series)
C Kris Draper (groin, questionable for start of series)
D Andreas Lilja (head, out)
Penguins-
None
Keys To The Series
Pens
Score and generate momentum on the PP.

Fleury has to outplay Osgood

Secondary scoring must be huge.
Wings
Penalty kill...penalty kill...penalty kill.

Datsyuk and Lidstrom must come back big!

Puck possession...cannot turn puck over!



So who is going to win?



This is tough. Look the reasons have been given many times but I do think the Detroit Red Wings end up winning this series. The scores will be closer and the dominance will not be as clear cut. However, the Red Wings are too close to the prize not to let it slip through their fingers. It does not mean the Penguins will not go down without a fight. This will not be the same as last year but the result indeed will be.



Prediction:

Wings in 6.