The RLD Morning Skate! (11/5)
Ryan delivers this one sunny side up and tells me...wow even the Devils win at home sometimes.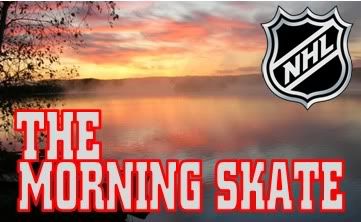 The Morning After:
Last night's scores:
Sabres 3, Islanders 0
Devils 3, Capitals 2
Sharks 3, Blue Jackets 2 (SO)
Panthers 3, Hurricanes 0
Flames 3, Stars 2 (OT)
Avalanche 4, Coyotes 1
Predictions record: 4-1-1

My 3 stars from last night:
1. Jarome Iginla, CGY (2 Goals, 1 Assist)
'Iggy' came up huge for the Flames, having a direct result in each of the Flames' goals, and netting the overtime winner.
2. Tomas Vokoun, FLA (32 Saves, Shutout)
Vokoun was a wall between the pipes for the Panthers, stopping all of Carolina's 32 shots.
3. Nicklas Bergfors, NJ (2 Goals)
The rookie's pair of 3rd period goals sprung the Devils to a win over Washington.
Dud of the Night:
Carolina Hurricanes… 10 losses in a row, no need to go further.
---

Tonight's Slate:
Canadiens @ Bruins, 7:00 ET
Blue Jackets @ Thrashers, 7:00
Lightning @ Senators, 7:30
Sharks @ Red Wings, 7:30
Canucks @ Wild, 8:00
Flames @ Blues, 8:30
Blackhawks @ Coyotes, 9:00
Rangers @ Oilers, 9:30
Predators @ Ducks, 10:00
Penguins @ Kings, 10:30

Games of the Night:
San Jose Sharks (11-4-1) @ Detroit Red Wings (6-4-3)
7:30 ET… TV: Local Networks

Players to watch:
SJ- Dany Heatley
These are the kind of games that 'Heater' was brought to San Jose for (other than the playoffs).
DET- Henrik Zetterberg
'Hank' has been Detroit's consistent offensive threat this season.

Projected Goaltenders:
SJ- Evgeni Nabokov (Last night @ CBJ: 26 Saves, 2 GA)
DET- Chris Osgood (09/10 stats: 5-2-2, 2.74 GAA)

Injury Report:
SJ- Devin Setoguchi (leg, questionable), Joe Pavelski (foot, out), Ryan Vesce (leg, questionable), Torrey Mitchell (knee, out)
DET- Brian Rafalski and Jonathan Ericsson (flu, questionable), Johan Franzen (knee, out), Valterri Filppula (wrist, out), Brad May (eye, out), Andreas Lilja (head, out)

Game Thoughts:
Joe Louis Arena has been a house of horrors to the Sharks, as they are 2-6 there since the lockout. They'll try to win their 7th in a row, though, against a Detroit team that is coming off a solid shutout win over Boston. I really like the Wings' chances in this one, as the Sharks won in a shootout last night. Go with Detroit in a close one…
Prediction: Red Wings 4, Sharks 3
---
Pittsburgh Penguins (12-3-0) @ Los Angeles Kings (9-4-2)
10:30 ET… TV: Local Networks

Players to watch:
PIT- Alex Goligoski
The young defenseman is on a tear right now, picking up a point in 8 of the last 9 games.
LA- Ryan Smyth
Smyth has been a force next to Kopitar this year, and is on pace to have a career year.

Projected Goaltenders:
PIT- Marc-Andre Fleury (09/10 stats: 10-2, 2.14 GAA)
LA- Jonathan Quick (09/10 stats: 9-3-2, 2.62 GAA)

Injury Report:
PIT- Evgeni Malkin (shoulder, out), Sergei Gonchar (wrist, out), Max Talbot (shoulder, out), Ben Lovejoy (shoulder, out)
LA- Alec Martinez (ankle, out)

Game Thoughts:
This will be a very interesting (and exciting) game, as the Penguins will try to extend their road record to 8-0 to start the year. Los Angeles will give the defending champs their best shot, and have been pretty good at home. My mind tells me to pick Pittsburgh, but my gut says LA…
Prediction: Kings 4, Penguins 3 (SO)

The rest of tonight's predictions:
Bruins over Canadiens
Blue Jackets over Thrashers
Senators over Lightning
Canucks over Wild
Flames over Blues
Blackhawks over Coyotes
Oilers over Rangers
Ducks over Predators

You can follow the Red Light District on Twitter @RLDhockey!