The RLD Morning Skate! (11/6)
Thanks Ryan once again for the Morning Skate!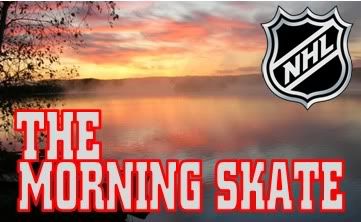 The Morning After:
Last night's scores:
Canadiens 2, Bruins 1 (SO)
Blue Jackets 4, Thrashers 3
Senators 3, Lightning 2 (OT)
Red Wings 2, Sharks 1 (SO)
Canucks 5, Wild 2
Flames 2, Blues 1 (OT)
Coyotes 3, Blackhawks 1
Rangers 4, Oilers 2
Ducks 4, Predators 0
Kings 5, Penguins 2
Predictions record: 7-2-1

My 3 stars from last night:
1. Carey Price, MTL (42 Saves, 1 GA)
Price was absolutely money (pun intended) against Boston last night. Despite the late goal, he was on fire all game long.
2. Jonas Hiller, ANA (40 Saves, Shutout)
For most of the game, Hiller had to hold a 1-0 lead against a lurking Predators team. A 40-save shutout is pretty impressive.
3. Jason Spezza, OTT (1 Goal, 2 Assists)
Spezza was in on all of the Sens' goals, and scored the winner in OT on a bomb from the slot.
Dud of the Night:
Pittsburgh's 3rd period… I think it was more of the Kings' success in the period than the Pens' struggles… but they still gave up 4 goals on 12 shots. There was poor defensive play and lack of discipline, ending their road winning streak.
---

Tonight's Slate:
Maple Leafs @ Hurricanes, 7:00 ET
Islanders @ Devils, 7:00
Flyers @ Sabres, 7:30
Capitals @ Panthers, 7:30
Canucks @ Stars, 8:30
Blackhawks @ Avalanche, 9:00

Games of the Night:
Philadelphia Flyers (7-4-1) @ Buffalo Sabres (9-2-1)
7:30 ET… TV: Local Networks

Players to watch:
PHI- Jeff Carter
He has 4 points in the last 2 games, and has 10 goals in 15 career games vs. Buffalo.
BUF- Tyler Myers
The rookie d-man will have a big assignment tonight against this high-powered offense.

Projected Goaltenders:
PHI- Ray Emery (09/10 stats: 7-3-1, 2.42 GAA)
BUF- Ryan Miller (09/10 stats: 9-1-1, 1.69 GAA)

Injury Report:
PHI- Simon Gagne (hernia, out), Danny Briere (groin, doubtful), Ryan Parent (groin, out), Matt Carle, Arron Asham, and Dan Carcillo (flu, questionable)
BUF- Andrej Sekera (flu, questionable), Toni Lydman (groin, out), Patrick Lalime (groin, questionable)

Game Thoughts:
I'm expecting this game to be the best of the night. Philly has been impressive lately, but they haven't played many road games yet. The Sabres are coming off a shutout of the Islanders, and Miller is on fire. Since the Flyers are due to have an off-night offensively, I like Buffalo to win a tight one.
Prediction: Sabres 3, Flyers 2
---
Chicago Blackhawks (8-5-1) @ Colorado Avalanche (11-3-2)
9:00 ET… TV: Local Networks

Players to watch:
CHI- Dustin Byfuglien
Chicago will really need 'Buffer' to be effective in the hard areas.
COL- Milan Hejduk
Hejduk has great career numbers against the 'Hawks, and is coming off a 3-point performance.

Projected Goaltenders:
CHI- Antti Niemi (09/10 stats: 3-1, 2.07 GAA)
COL- Craig Anderson (09/10 stats: 10-3-2, 2.11 GAA)

Injury Report:
CHI- Jonathan Toews (concussion, doubtful), Marian Hossa (shoulder, out),
COL- Ruslan Salei (back, out), Darcy Tucker (concussion, out), T.J. Galiardi (ankle, out), Matt Hendricks (groin, out), Tom Preissing (knee, out)

Game Thoughts:
This will be a tough turn-around for Chicago, going from the desert to the Mile High City. The Avalanche have been rock-solid on home-ice with a 5-0 record. Joel Quenneville's club has to fight through some recent offensive struggles away from home. For the 'Hawks to lose on back-to-back nights, it will take a lot… but I just don't see winning this one.
Prediction: Avalanche 4, Blackhawks 2

The rest of tonight's predictions:
Hurricanes over Maple Leafs
Devils over Islanders
Capitals over Panthers
Stars over Canucks

You can follow the Red Light District on Twitter @RLDhockey!