Ryan says good morning and here comes some hockey breakfast......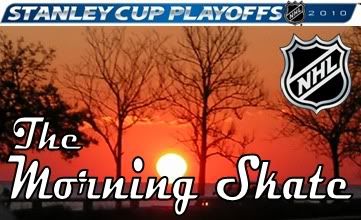 The Morning After:
Last night's scores:
Coyotes 5, Red Wings 2
Canucks 4, Kings 2
Predictions record: 0-2

My 3 stars from last night:
1. Roberto Luongo, VAN (30 Saves, 2 GA)
Luongo made big save after big save, helping Vancouver knock out the Kings.
2. Ilya Bryzgalov, PHX (31 Saves, 2 GA)
When the game was still in the balance, 'Bryz' came up big in net for the 'Yotes.
3. Daniel Sedin, VAN (1 Goal, 1 Assist)
Daniel's 2 points – and game-winner – ultimately lifted the Canucks.
'RLD Game-Changing Performance' of the night:
Lauri Korpikoski… In yesterday's Game 6 in Detroit, the Wings came out like gangbusters and threw everything at Bryzgalov. Not even 5 minutes into the game, they got a power play opportunity to finally get on the board. But when Korpikoski stole the puck in the neutral zone and scored shorthanded, it took the air out of the building and swung the momentum.
---
Tonight's Slate:
Washington @ Montreal, Game 6, 7:00 ET
Buffalo @ Boston, Game 6, 7:00
Chicago @ Nashville, Game 6, 9:00

Games of the Night:
Washington Capitals @ Montreal Canadiens
Game 6, 7:00 ET… TV: VERSUS, TSN, Local Networks
Capitals lead, 3-2

Players to watch:
WSH- Brooks Laich
Laich only has 2 points in the series. If he produces tonight, they'll be tough to beat.
MTL- Andrei Markov
The Habs need Markov (just 3 A in series) to step up big-time in this one.

Starting Goaltenders:
WSH- Semyon Varlamov (Playoff stats: 3-1, 2.34 GAA)
MTL- Jaroslav Halak (Playoff stats: 2-2, 3.24 GAA)

Injury Report:
WSH- Eric Belanger (dental, probable), Shaone Morrisonn (arm, probable), Milan Jurcina (hernia, out)
MTL- Jaroslav Spacek (illness, questionable), Paul Mara (shoulder, out)

Game Thoughts:
Behind the goaltending of Halak, the Canadiens forced a Game 6. Halak will have to be just as good, or better, for Montreal to stay alive tonight. Washington couldn't buy a goal on Friday, but that could easily change. They took both games in Montreal in this series, and will be determined to close it out tonight. I think they will, but not without another valiant effort from the Habs. Take the Caps in a close one…
Prediction: Capitals 4, Canadiens 3
---
Buffalo Sabres @ Boston Bruins
Game 6, 7:00 ET… TV: CBC, Local Networks
Bruins lead, 3-2

Players to watch:
BUF- Jason Pominville
The population of Pominville may need to increase tonight for Buffalo to stay alive.
BOS- Patrice Bergeron
If Bergeron plays like he did in Game 4, the B's should get a win.

Starting Goaltenders:
BUF- Ryan Miller (Playoff stats: 2-3, 2.02 GAA)
BOS- Tuukka Rask (Playoff stats: 3-2, 2.03 GAA)

Injury Report:
BUF- Thomas Vanek (foot, questionable), Matt Ellis (upper body, questionable), Jochen Hecht (finger, out)
BOS- Marc Savard (concussion, doubtful), Dennis Seidenberg (forearm, out), Mark Stuart (finger, out)

Game Thoughts:
After a 4-1 'beat-down' (you'd call it that in this series), the Sabres must win again to stay alive – this time in Boston. This has been a really good goaltending duel, as expected, and Rask is going to have to be brilliant. I have a hunch Vanek will give it a go; how effective he'll be is a different story. I predicted Buffalo in seven, and I'm sticking to it. Lindy Ruff's squad pulls it out in overtime…
Prediction: Sabres 3, Bruins 2 (OT)
---
Chicago Blackhawks @ Nashville Predators
Game 6, 9:00 ET… TV: TSN, VERSUS (JIP), Local Networks
Blackhawks lead, 3-2

Players to watch:
CHI- Duncan Keith
Keith is playing almost 30 minutes a night, but doesn't have a point in the series.
NSH- Steve Sullivan
I'm feeling a really strong, desperate effort from 'Sully' in this one.

Starting Goaltenders:
CHI- Antti Niemi (Playoff stats: 3-2, 1.99 GAA)
NSH- Pekka Rinne (Playoff stats: 2-3, 2.41 GAA)

Injury Report:
CHI- Kim Johnsson (concussion, out)
NSH- Patric Hornqvist (upper body, questionable), Dan Hamhuis (upper body, probable)

Game Thoughts:
The big question in this game is how will Nashville recover from Saturday's meltdown? If they put it behind them, they can easily win this game. That could be hard to do. Chicago has controlled most of the last two games, with the exception of the 3rd period in Game 5. The Predators need a fast start to gain confidence and to get the crowd going. In the end, though, Nashville has never extended a series when facing elimination. Take the 'Hawks…
Prediction: Blackhawks 4, Predators 2

You can follow the Red Light District on Twitter @RLDhockey!
Don't forget about our radio show at 1:00 ET on Tuesday!